METAVASIS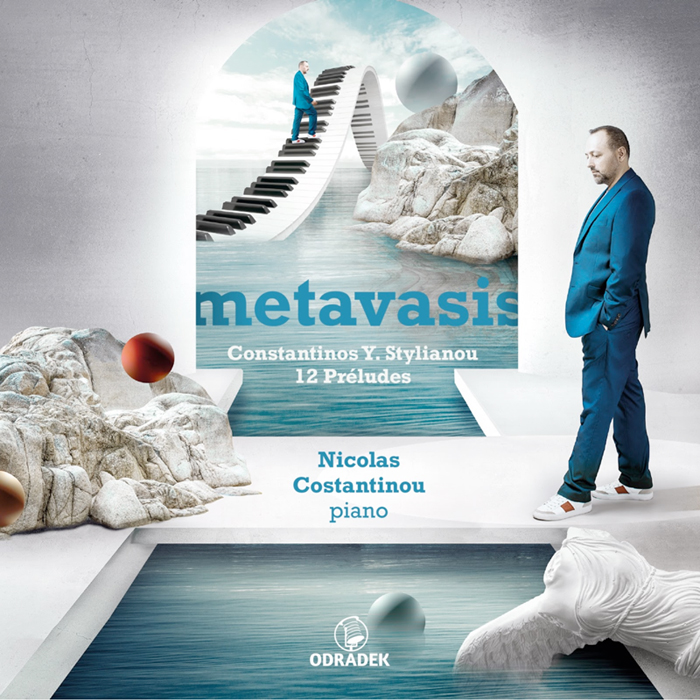 In an album of world-premiere recordings, Steinway Artist Nicolas Costantinou performs 12 Préludes for solo piano by Constantinos Y. Stylianou, each inspired by a different work of art.
In 2008, as part of a series of events to mark the French Presidency of the EU, Stylianou was asked to compose a piece of music for solo piano to be performed at the Great Hall of the UNESCO Headquarters in Paris. This resulted in two préludes, each one inspired by a work of art (painting or sculpture); the choice of form was also influenced by Debussy's two Books of Préludes. Following those two initial piano works, Stylianou decided to continue composing préludes until a cycle of 12 was completed. The last prelude was composed in 2014, with final revisions made in 2018.
From the set's starting point of a prehistoric sculpture of a winged goddess, Stylianou embraces a wide range of art: Mondrian's Composition with Blue and Yellow (1932); Cézanne's L'étang des sœurs (1875); Turner's Snow Storm – Steam-Boat off a Harbour's Mouth (1842); Campin's The Weeping Angel from the Seilern Triptych (c. 1410/15); Die Lebensstufen (1835) by Caspar David Friedrich; L'homme qui marche (1947) by Alberto Giacometti; Matisse's La leçon de piano (1916); Klimt's The Kiss (1907/08); Kandinsky's Le rond rouge (1939); O kósmos tis Kíprou (1967/72) by Adamantios Diamantis; and finally The Dance (1988) by Paula Rego. The result is a vivid, colourful and inspired series of préludes, each one distinguished not only by a unique tonal and stylistic character, but also by the personal approach to the instrument that is so characteristic of this composer's style.
Constantinou aims to draw the audience in to become actively immersed in the 12 contrasting and diverse pieces, creating a dynamic and engaging relationship between music, artist and listener. This idea is reflected in the title of this album, …metavasis, which is the ancient Greek word for 'transition'.
Nicolas Constantinou, who has a doctorate from the Royal College of Music in London, is renowned for impressing audiences with his daring selection of repertoire, old and new. He has been hailed by critics as "… an artist of deep emotions, who is capable of performing music with his whole being and soul…" (Kaleva, 2003) while his interpretations have been described as "colossal" and "dramatic" (composer Dimitri Nicolau). Constantinou studied at the Greek Hellenic Academy of Music, Ferenc Liszt Academy of Music in Szeged and the Ferenc Liszt University of Music in Budapest, and he holds a Master of Music in Performance from the US Cleveland Institute of Music. He has been awarded a doctorate of philosophy (PhD) from London's Royal College of Music.
Greek Cypriot composer Constantinos Y. Stylianou studied and now lives in London. His music has been performed by leading orchestras such as the Philharmonia, Bruckner Symphony Orchestra, Oxford Philharmonic Orchestra, Jeunesses Musicales World Orchestra and the Cyprus Symphony Orchestra, and in prestigious venues such as Wigmore Hall in London, the King's Theatre in Edinburgh, St David's Hall in Cardiff, Teatro La Fenice in Venice, Beethoven-Haus in Bonn, ORF concert hall in Vienna, Megaron Concert Hall in Athens, the UNESCO Headquarters and the Cathédrale Saint-Louis des Invalides in Paris.
Preview Listening Links:
https://on.soundcloud.com/Ck5jP

Order here:
https://www.amazon.co.uk/s?i=popular&rh=p_32%3ANicolas+Constantinou&ref=dp_byline_sr_music_1
Preview digital booklet:
https://issuu.com/odradek-records/docs/odrcd438_metavasis_itunes